At Garvalín we like to measure up.
We are aware that choosing the right shoe size for your little one can be complicated, so we want to help you.
We often don't even know what our own size is. So, just imagine finding out our child's shoe size. We have a lot of numbers in our heads, our phone number, our bank password, the date of our child's birthday, the bus number. And sometimes we don't have enough space left on our hard drive to know our child's shoe size.
This information is very important, which is why we recommend you read this guide, so that you can place an order feeling confident that you have chosen the right size.
Children grow up very quickly, it seems like yesterday when they said mammy or daddy for the first time, and now they are going to senior school. If you have doubts about their size, you can consult this guide to find the perfect fit.
Do the measurements in the table apply to all the models available in the online store?
Please note that all measurements are approximate. Depending on the model, the size may vary slightly, therefore, it is possible that the chosen references may not match up to the measurements in our table exactly.
Canvas shoes: Their fit may be a little wider, buy your child's usual size, check the fit and if it is too big, you can exchange it by following the steps we explain HERE
Do I have to leave 1 cm extra when selecting the size?
Our sizes already allow enough room for the foot to fit correctly inside the shoe, i.e. if your little one's foot measures 10.8 cm our recommendation is size 18, if his foot measures 12 cm, size 20 and so on as shown in the table below.
Getting the perfect fit.
Here are the latest recommendations for choosing the right shoes.
Do not choose shoes that are too tight or too small, as this prevents them from stretching their toes, causing pain in the instep and poor foot development. They should not be too big either, as the foot will move around and cause chafing and sores as it grows.
●     The first mission for the correct size is that it is neither too big nor too small. If the shoe is too small or too tight, the child will not be able to stretch his or her toes properly and may have poor foot development and pain in their instep. And if the shoe is too big, the foot will move around (it's always better for the child to move around - not the foot - even if it's dancing to the teapot song) and can cause chafing.
●     Watch out for the magic hour to try on their shoes. That time is when the feet are more dilated than during the rest of the day. Late afternoon will be the ideal time to check what size is right for them.
●     A sock will be our ally to get it right. It is important to try on shoes with a sock similar to the one they are going to be wearing every day.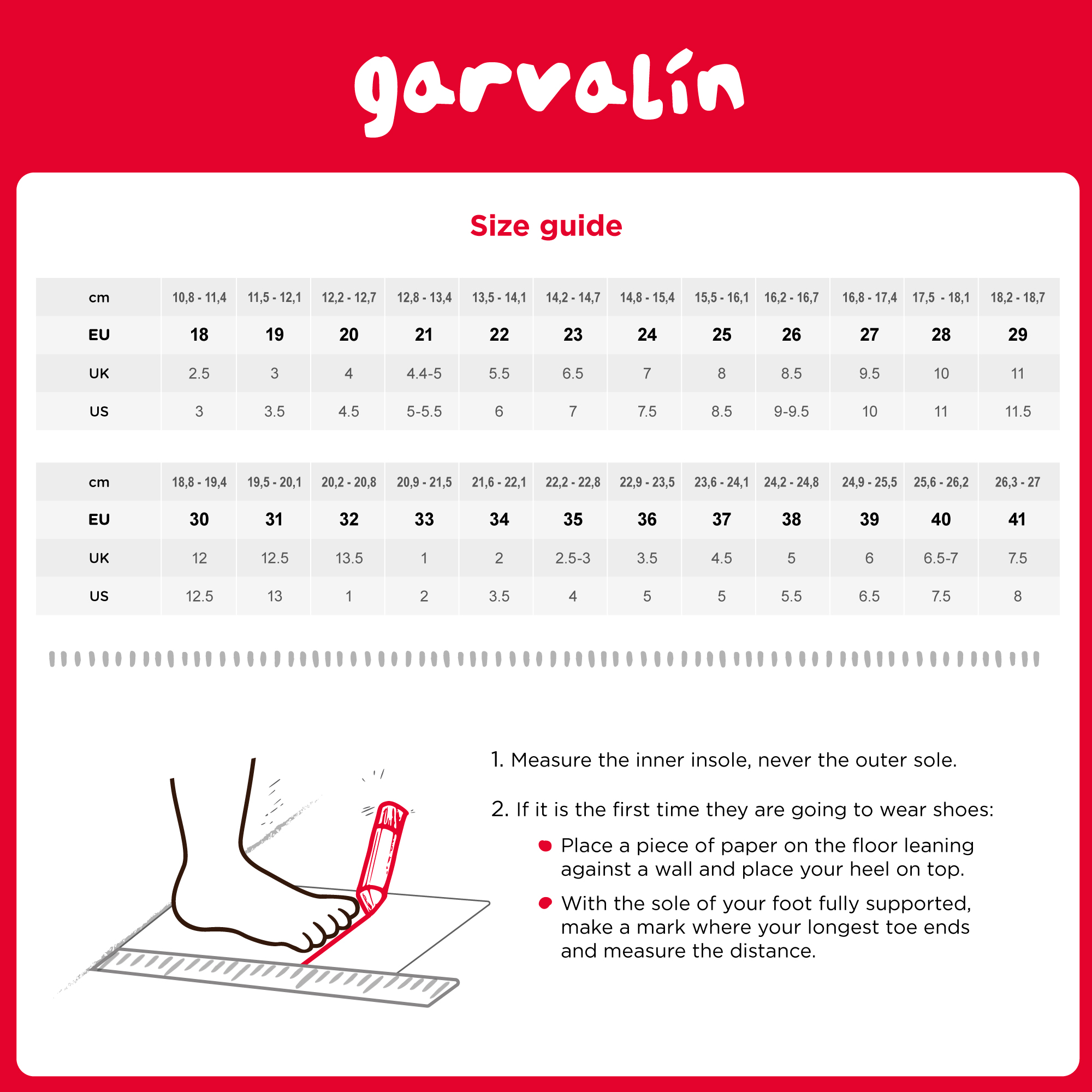 Children grow up very fast. Too fast. And so do their feet, so it is advisable to check or change their shoes according to the following table:
| | |
| --- | --- |
| Child's age (years) | Recommended frequency for changing/ checking footwear |
| 0 – 1.5 | every 2 months |
| 1.5 – 2.5 | every 3 months |
| 2.5 - 4 | every 4 months |
| 4 - 6 | every 6 months |
| 4 - 6 | every 3 - 4 months |
| 10 - 20 | highly variable, every 4 - 6 months |